Vehicle Quality
Reduce recalls and maintenance costs with connected vehicle quality monitoring on the Upstream Platform.
Request a Demo
Quality by Design
With Upstream for Vehicle Quality automotive stakeholders access actionable insights relating to vehicle quality across the entire vehicle life cycle.
Reduce Recall and Warranty Costs
Detect issues early, prevent costly repairs, and minimize warranty claims.
Enhance Vehicle Safety
Ensure quality and performance to prevent failures and improve consumer experience.
Protect Brand Reputation and Business Continuity
Deliver consistent quality and limit disruptions through proactive control.

Actionable Vehicle Quality Insights
Agentless Platform >

Utilize connected vehicle data without the need for any in-vehicle software installation with monitoring is available throughout the entire vehicle lifecycle, providing comprehensive visibility to vehicle health and quality.

Built for Automotive >

The Upstream Platform is built to handle vast amounts of unstandardized data from the entire connected vehicle ecosystem, including vehicle sensors, signals, FOTA, and command and control telematics servers.

Analytics-ready Data Normalization and Cleansing >

Taking the diverse data produced by connected and software-defined vehicles, the Platform cleanses it and then normalizes the data with a proprietary universal data dictionary while maintaining strict PII protection for regulatory compliance and consumer privacy.

Dedicated Vehicle Quality Indicators >

Dedicated indicators identify potential quality issues effectively. The proprietary indicators are developed through extensive internal research by cybersecurity and automotive experts of DTCs, in-vehicle sensor data, service and warranty claims, and public recall information.

Mobility asset digital twins >

Contextualize vehicle data with comprehensive digital twins of the vehicle as well as its individual components, using DTCs, sensorial data, OTAs, warranty data, and data from telematics communications channels.

Cutting Edge Detection >

The Upstream Platform offers a robust pre-configured suite of anomaly detectors. The platform leverages AI and ML-based detection models for unknown anomaly identification alongside detectors crafted by automotive domain experts.
Upstream's Vehicle Quality solution was designed to provide insights throughout the entire vehicle lifecycle. With proprietary indicators developed by a team of in-house experts with experience in automotive cybersecurity, the platform leverages connected and software-defined vehicle data to swiftly and efficiently identify potential issues before they necessitate a recall or incur costly warranty-related fees.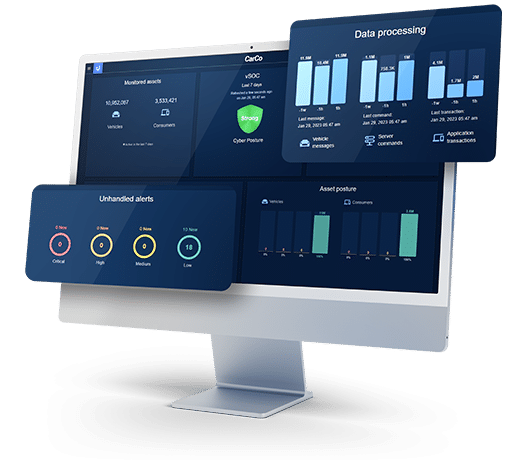 Integrated workflows
The Upstream Platform analyzes vehicle data in real-time, detects potential quality issues, automatically categorizes them for severity and impact, and provides relevant parties with alerts or triggers specific predefined workflows. The Upstream Platform can also be integrated with existing organizational data platforms to provide a comprehensive vehicle quality monitoring solution
Learn more
Custom-built quality monitoring
for a wide range of vehicle verticals
Ready to enhance vehicle quality and reduce recall, maintenance, and warranty costs?
Talk to our experts and find out how Upstream can help