Upstream Security joins AWS ISV Accelerate: What does it mean for Connected Mobility and SDV makers?
On May 24, 2023 Upstream was selected to join the AWS Independent Software Vendor (ISV) Accelerate Partner Program.
This marks an important milestone in our relationship with AWS Automotive and Manufacturing, bringing our 3-year collaboration to new heights. As of January 2023, Upstream products are also available through the AWS Marketplace through private offers either directly or in collaboration with our GSI and MSSP partners. In a recent deployment of Upstream's platform, one of AWS' global OEM customers was able to onboard millions of vehicles in less than 24 hours.
Upstream is a global leader in Automotive cybersecurity and data management, and our Platform is already used to monitor and protect over 25 million vehicles and assets around the world. The Upstream Platform enables some of the world's largest OEMs, Tier-1 automotive suppliers, commercial fleet operators and EV charging companies to detect and mitigate cybersecurity threats to their vehicles, fleets and connected mobility assets (e.g. mobile companion apps, EV charging infrastructure).
Additionally, our API Security solution helps protect from cybersecurity attacks targeting API vulnerabilities. Our API Security solution extends our joint offering from the Vehicle Security Operations Center (vSOC) and Security teams to encompass Engineering, DevSecOps and IT teams. We're seeing strong interest from joint customers for the API Security solution due to the sharp increase in API attacks over the last couple of years, a 380% spike based on our findings (2022 vs. 2021). These types of API attacks have heavy repercussions that can lead to business disruptions, PII data leakage, as well as damage to brand reputation and customer trust.
Upstream's Cybersecurity Platform and API Security solution use the industry's most advanced anomaly detection technology and ML-powered detection capabilities to generate smart, near real time alerts, enabling fast response and remediation to cybersecurity threats. The platform is also pre-integrated with AWS security stack and industry leading SIEM and SOAR solutions.
Working side-by-side with AWS Automotive and Manufacturing – Better Together
Working even closer now with AWS through the ISV Accelerate Program resources and Solution Architects, Upstream and AWS help joint customers to move beyond compliance to next-gen transportation & mobility cybersecurity and deliver unique benefits:
AWS-Native, Zero Vehicle Footprint


The Upstream Cybersecurity Platform's architecture eliminates the need to use additional hardware or software in connected vehicles and can thus be deployed within the customers' AWS cloud environment rapidly and effectively. Joint customers can

safeguard their connected vehicles and fleets – including those already on the road – from the get-go

.

Securing APIs from Vulnerabilities & Attacks – Working together with AWS, we developed an optimized architecture for API Security across both the IT and OT domains. The API Security solution utilizes AWS best-practice methodologies in integrating to various AWS services for streamlined data collection across smart mobility, manufacturing and fleets.
Furthermore, the Upstream platform can correlate data from API traffic as well as the live state of connected mobility, applications and consumers to effectively detect anomalies, misconfigurations and cybersecurity threats.
Faster time-to-security

– Upstream is pre-integrated with AWS Automotive data lake, APIs and the customer's security stack, telematic feeds and additional mobility data streams –

allowing for quick implementation and enabling faster time-to-value

. By providing quicker time to compliance, customers can start monitoring connected vehicles already on the road immediately.

Purpose-Built & Optimized for Automotive

– Upstream's cybersecurity platform leverages mobility domain knowledge and expertise working with vast amounts of daily automotive data streams from tens of millions of vehicles worldwide and 10s of billions of monthly API transactions. The Platform is designed to deliver optimal performance for massive mobility datasets.

Simplified Procurement

– Being selected to the ISV Accelerate Program and having Upstream available through the

AWS Marketplace

enables customers to

easily procure and deploy Cybersecurity for Connected Mobility and SDVs.
If you'd like to learn how Upstream & AWS can help you to safeguard your vehicle fleets against cybersecurity threats and API attacks, let's schedule a personalized demo.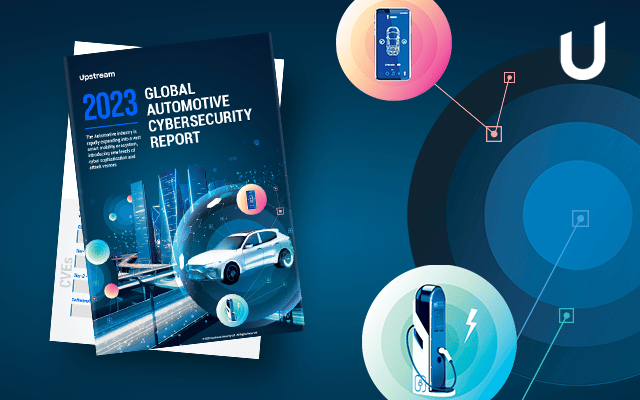 Upstream's 2023 Global Automotive Cybersecurity Report