Smart Mobility API Security & Monitoring
Built on the Upstream Platform, the API Security and Monitoring solution layers automotive and cyber expertise and the live state of connected vehicles to secure smart mobility APIs against vulnerabilities, attacks, misconfigurations, and design flaws.
Request a Demo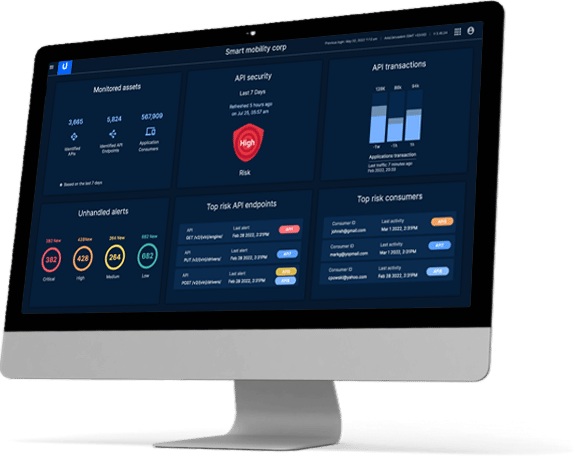 Protect APIs, backend servers, and mobility assets
from vulnerabilities, attacks, misconfigurations, and design flaws.
Correlate data from API traffic as well as the live state of vehicles, applications and consumers (digital twins) to monitor the behavior and impact of APIs, and effectively detect anomalies and cybersecurity threats.
Discover
Automatically inventory your APIs covering real-time live traffic and OpenAPI documentation sources for comprehensive discovery of all documents, undocumented and depreciated-but-alive APIs.
Detect
Upstream API Security & Monitoring is the only solution that correlates between the attacked API and the actual vehicle, using the unique digital twins to detect known and unknown cyber security threats.
Shift-Left
Continuous monitoring increases your security posture and development velocity by identifying any misconfigurations in APIs or impacts on mobility assets in real-time.
Mitigate & Respond
Investigate and mitigate cyber threats and developer errors by enhancing existing workflows and tools with API-related alerts, empowering security teams to respond to threats effectively.

API Security
Purpose-Built for Smart Mobility
Agentless solution with fast time-to-security

The Upstream Platform leverages existing connected vehicle and mobility data streams to offer a comprehensive and actionable view of all your assets, so you can effectively discover and prioritize risks and triggers. The platform can be installed in your cloud environment, so you maintain full ownership and flexibility, eliminating long-term lock-in challenges.

Automatic ingestion of API traffic and transactions

Monitoring millions of vehicles globally and digesting billions of transactions monthly, with a field-proven solution, the Upstream Platform can easily ingest additional data streams quickly, making for seamless integration with a quick ramp-up for API security.

Accurate profiling and performance benchmarking

The Upstream Platform analyzes and profiles the standard behaviors of APIs and how they interact with the vehicle in context, including the behaviors of consumers, to establish performance benchmarks.

Live digital twins of consumer, vehicle, and applications

With robust digital twins, live digital representations of the state of vehicles, consumers, applications and other related assets Upstream offers a comprehensive view of all assets impacted in real-time for advanced detection.

Correlating behaviors for accurate detection

React in real-time by correlating consumer behavior on your mobile or web applications and the live state of the vehicle for a clear understanding of APIs at work. Gain a clear understanding of the real-world implications of cyber threats, going beyond transaction volume or parameters used and into the vehicle.

Investigate incidents with visual, custom reports

Investigate incidents on the Upstream Platform and view your analytics and predefined reports on custom dashboards. Easily access all the information needed to mitigate and respond to incidents effectively and trigger existing workflows to deal with alerts to take real action against threats.
Upstream monitors millions of vehicles globally, digesting billions of transactions a month. Leverage existing connected vehicle and mobility data expertise for a comprehensive and actionable view of all your assets to effectively discover and prioritize risks and triggers for purpose-built smart mobility API security and monitoring.
API Security & Monitoring for the Smart
Mobility Landscape
Your smart mobility APIs are valuable.
Secure them today.
Learn more about how Upstream uses our unique digital twins to secure and monitor APIs.