PRO
Boost product cybersecurity with the first automotive-focused threat intelligence and risk assessment solution
Book Consultation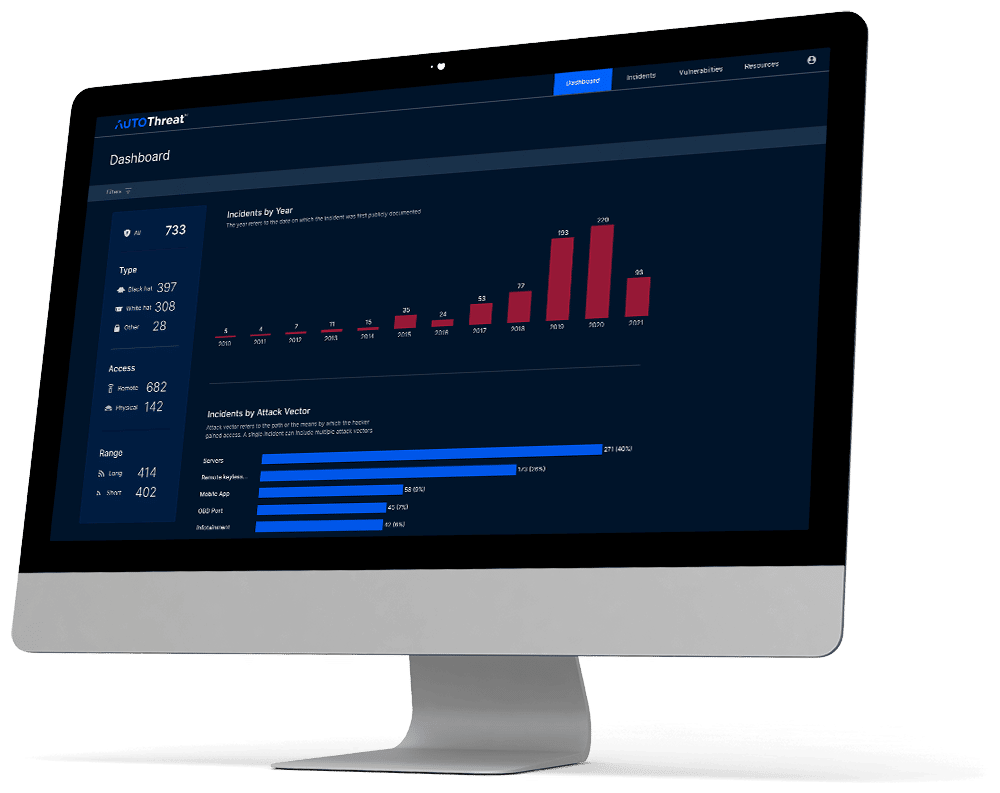 Threat Intelligence:
Designed for Mobility
Upstream's AutoThreat® PRO is the automotive industry's first line of defense and the leading cyber risk detection and mitigation solution.
The First Automotive Cyber Threat Intelligence

Premium Threat Intelligence Service
Developed specifically for connected vehicles, AutoThreat® PRO offers a purpose-built service that includes customized queries, deep and dark web investigations, and tailor-made threat models based on user-specific assets, needs, and business models.
AutoTheart® PRO services are offered as a single annual subscription:
Everything in AutoThreat®, plus:
Mobility-specific incident repository
Easy-to-use dashboard
Stand-Alone or API interface
Supply chain insights
Deep and Dark Web monitoring
Tailor-made threat modeling
Dedicated Upstream analysts for customer reporting and consulting
Get AutoThreat® PRO
Mobility Intelligence Fit For Your Needs
Automotive-First
Automotive-First
The first and only threat intelligence offering purpose-built for the automotive ecosystem, providing dedicated automotive-specific intelligence, incident tracking, vehicle-relevant vulnerability detection, threat impact analysis, mitigation suggestions, support in prioritization, exposure analysis and threat propagation.
Supply Chain Insights
Supply Chain Insights
As the only automotive-focused solution in the market, it offers component-level mapping to vehicle models and customized tracking. Based on a product's bill of materials or listed assets, users gain insight and can manage risks and vulnerabilities found in their dynamic supply chain.
Comprehensive Vulnerabilities and Incident Repository
Comprehensive Vulnerabilities and Incident Repository
Upstream's cyber incident repository is constantly updated and consists of detailed automotive-related publically reported vulnerabilities and incident information including the attack type, vector, impact, geo-location, and more to boost awareness and effectively assess risks.
Compliance with Regulations
Compliance with Regulations
Enable OEMs and Tier-1 and Tier-2 suppliers to effectively monitor risks and vulnerabilities associated with automotive products and comply with the new cybersecurity regulations and standards.
Deep and Dark Web Monitoring and Threat Hunting
Deep and Dark Web Monitoring and Threat Hunting
In addition to collecting automotive-related cyber incidents reported publicly, AutoThreat® PRO also monitors sentiments to detect early signs of intended exploits and tracks incidents found throughout the deep and dark web, including private forums, marketplaces, and social network channels.
Confidential Data Leakage Risks
Confidential Data Leakage Risks
Various parties that have access to sensitive and confidential information (e.g. future models, plans, etc.) may seek financial gain opportunities by offering the data for sale. AutoThreat® PRO includes custom investigations to detect leakage in the deep and dark web and enable immediate mitigation.
Custom Reporting
Custom Reporting
Users can create and download customized threat reports that can be used for organizational threat awareness or internal risk funding proposals.
Stand-Alone or API
Stand-Alone or API
AutoThreat® can be used as a stand-alone risk management solution or integrated with existing risk management platforms due to its STIX formatting and API capabilities.
Ready for the latest insights from our analysis of automotive cyber incidents?