Complying with NHTSA's new order for crash reporting
In the last few years, progress has been made in autonomous driving technology for consumer and commercial vehicles. The Society of Automotive Engineers (SAE) classifies six levels, starting with manual driving without any assistance at level 0, where the driver is responsible for all driving tasks, to a fully autonomous driving experience with no driver needed at level 5.
While autonomous systems should increase safety and decrease the probability of crashes, collisions are still a reality at the present time. Over the past few years, cars with SAE level 2 advanced driver-assistance systems (ADAS) and SAE Levels 3-5 automated driving systems (ADS) were involved in severe and deadly accidents. The general public is naturally concerned that autonomous systems pose risks rather than increase safety and demand transparent investigations into these incidents.
On Tuesday, June 29th, The National Highway Traffic Safety Administration (NHTSA) exercised its authority by issuing a Standing General Order requiring manufacturers and operators of vehicles equipped with SAE Level 2-5 to report crashes.
Dr. Steven Cliff, NHTSA's acting administrator, said in a statement: "By mandating crash reporting, the agency will have access to critical data that will help quickly identify safety issues that could emerge in these automated systems. Gathering data will help instill public confidence that the federal government is closely overseeing the safety of automated vehicles."
While this makes a lot of sense – it poses numerous challenges to the car manufacturers and operators to provide the following information:
Time to report – The initial crash report should be submitted within a 24 hour period. As more information surfaces, additional reports should be submitted in the following days.
Distributed data – The complete trove of data that will shed light on the crash and enable a thorough investigation is distributed in several car systems. Relevant data may be collected from the ADAS or ADS, Driver Monitoring Systems (DMS) data and cameras, as well as signals monitoring the vehicle speed, the brake pedal usage, the acceleration and other contributing factors.
Unstructured data – Each system and component within the vehicle is usually manufactured by a different vendor. As such, there is no standardization of the data nor a protocol that makes it easy to extract, consume, and create such a report.
Complicated supply chain – Vehicle OEMs usually equip their different car models with various components from multiple vendors. This creates a complex matrix of elements, making it very difficult to maintain a coherent extraction mechanism for such reports.
Unstored data – Some ADAS components, due to the high data throughput, will not store or are not designed to store the data that they generate for subsequent analysis (e.g., cameras) and trigger actions based on pre-programmed and trained AI parameters. As a result, the data will not be available for accident investigation.
Upstream can help companies comply with the new Standing General Order. The Upstream Platform collects, processes and analyzes all the data from any vehicle and car and truck fleets in near real-time, including the advanced and automated driving systems. The data processing includes data cleansing and standardization to build an ongoing vehicle digital replica, what we refer to as the Mobility Digital Twin. The Mobility Digital Twin represents the real-time and historical car state and context during any given point in time of the vehicle life cycle.
In addition, the car status is enhanced with external and contextual data such as weather conditions, dynamic road congestion and many additional factors which help in understanding the vehicle condition. The Mobility Digital Twin provides transparent visibility and context required to analyze and investigate the situation prior to the crash.
The Mobility Digital Twin then feeds the Upstream Platform investigation module. It contains visualization capabilities to enable effective investigation, and reporting tools to share the relevant crash information with whom it may concern.
Want to learn more on how Upstream can help you comply?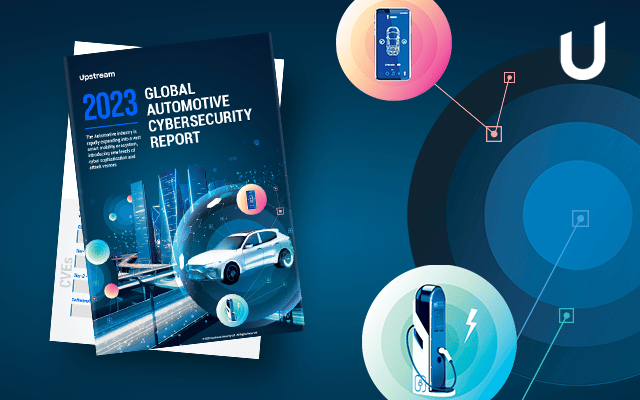 Upstream's 2023 Global Automotive Cybersecurity Report