Running the Telematics Service for Your Connected Fleet? Here's what you need to know
In today's economy, a company's competitive advantage often lies heavily in its transport infrastructure. The trucking and logistics fleets become increasingly connected in an effort to increase productivity and profitability, and it's clear why –
Connectivity allows fleet operators and managers to boost their fleet's efficiency as well as its wellness and its drivers' safety. Leveraging the connected vehicle's smart, automated systems by using telematics data allows fleet operators to:
Build their drivers' risk profile
Improve fleet's maintenance
Have real-time visibility into fleet's performance
Find better routes, thus saving time
Monitor drivers' behavior and safety
Perform ongoing remote health checks
And ultimately- improve operational excellence for the company
However, the more connectivity, the bigger the exposure, and the very same car-generated data used to monitor and report the vehicle's tire pressure, can so easily be exploited to hack into its telematics backend servers. Connected car fleets can be hacked into via numerous entry points due to their inherent vulnerabilities: from using Bluetooth and a key fob, through using Wi-Fi and cellular systems, radio systems, tire pressure monitoring systems, to playing a corrupt CD in the car!

Ultimately, companies running their fleet's telematics service are exposed to 3 kinds of cyber attacks:
Attack on the vehicle. Resulting in car-failure and other malfunctions due to malicious remote commands.
Attack on your telematics servers. Using one of the many entry points via the vehicle's wireless connectivity devices. These kinds of breaches could lead to fleet-wide attacks, ranging from ransomware causing financial and reputational damage to impaired operability and uptime, and worst yet- causing physical harm to the drivers and their surroundings on the road. The stakes are even higher when talking about truck fleets carrying heavy or hazardous loads of materials. Just imagine what a fleet-wide attack could result to then.
Attack on the company's IT network. A cyber attack coming from the vehicle and into the telematics system can then pivot to other types of systems in the organization. Hacking into the fleet's telematics service to get to other back-office systems is an increasingly attractive prospect for hackers.
Any of these breaches carry substantial risks of data being stolen to attack either the company itself or its drivers, customers, and users. And with cybercriminals continually scanning big and small companies for vulnerabilities, they will attack any target that comes their way, leaving no connected fleet out of harm's way.
Securing the connected fleet and its backend servers
When you have your own IT infrastructure and capacity to store and runyour fleet's telematics data, why turn to third-party vendors? However, securing telematics data is a whole different story, which comes with complex requirements. The telematics servers are getting a continuous flow of data from the connected vehicle itself as well as from the apps and software operating it, and are constantly sending commands back through that communication flow. Add to that the fact that logistics and other commercial fleets often have more complex operating parameters, each with its distinct set of potential vulnerabilities and various entry points widening the attack surface. And so, the only way to enforce rigorous protection over the telematics data is to monitor the entire chain of communication between the connected vehicle, the mobile apps, and the telematics servers.

Protecting your fleet
In order to have real-time visibility into any suspicious activity across the entire ecosystem of the connected car, you need advanced artificial intelligence and machine learning algorithms to monitor and analyze the behavioral patterns of the data flow. This wholesome perspective enables both actionable preventive measures to be taken in real-time, as well as predictive maintenance insights to avoid recurring incidents.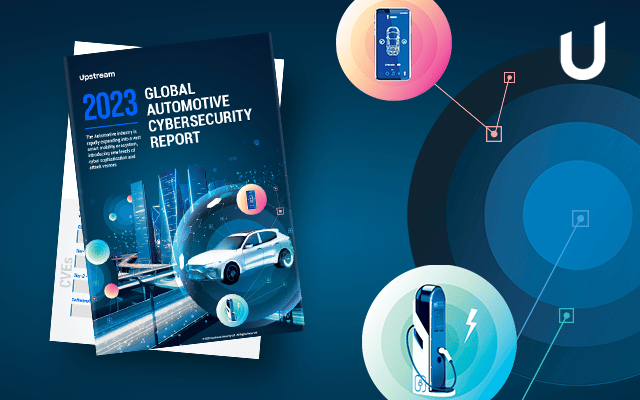 Upstream's 2023 Global Automotive Cybersecurity Report