Upstream Partners with Salesforce, Putting Connected Vehicle Data in Motion
The automotive industry is undergoing a massive transformation, building new revenue streams and business opportunities. Connected vehicle and smart mobility data are at the core of this transformation, enabling OEMs and mobility service providers to drive new data-driven monetization opportunities and gain deep understanding of vehicle and driver behavior, as well as the operational state of vehicles across the entire fleet.
Salesforce recently announced the launch of AutoCloud, its unique solution for the Automotive and mobility ecosystem. Upstream is proud to be one of the technology vendors that power AutoCloud.
Based on Upstream's unique automotive digital twin and ML-based detection capabilities, AutoCloud enables OEMs, dealerships, fleet managers and other smart mobility customers to seamlessly build advanced analytics use cases, such as predictive maintenance, driving behavior analytics, and vehicle health monitoring, to improve consumer experience and enhance data-driven services.
Leveraging the Cloud for Automotive-Specific Data Analytics
Upstream's cloud-based solution does not require any in-vehicle components, allowing for a wide range of product and business opportunities immediately and continuously. The agentless solution agnostically and seamlessly ingests data from multiple sources and vehicles and reduces costs by removing any prohibitive reliance on in-vehicle hardware or mobile devices. Additionally, Upstream's data standardization and ML capabilities enable users to cross-correlate and gain insights from a multi-sourced collection of ecosystem data.
Fueled by Upstream's insights, Salesforce AutoCloud enables workflow automation based on user parameters, vehicle component characteristics, vehicle make, year, and model, geographical location, fleet category, vehicle events (such as airbag deployment, an OTA update, etc.), and more. The combined rich data gives users the ability to explore it, slice and dice it according to multiple attributes, and discover and investigate various mobility scenarios in detail.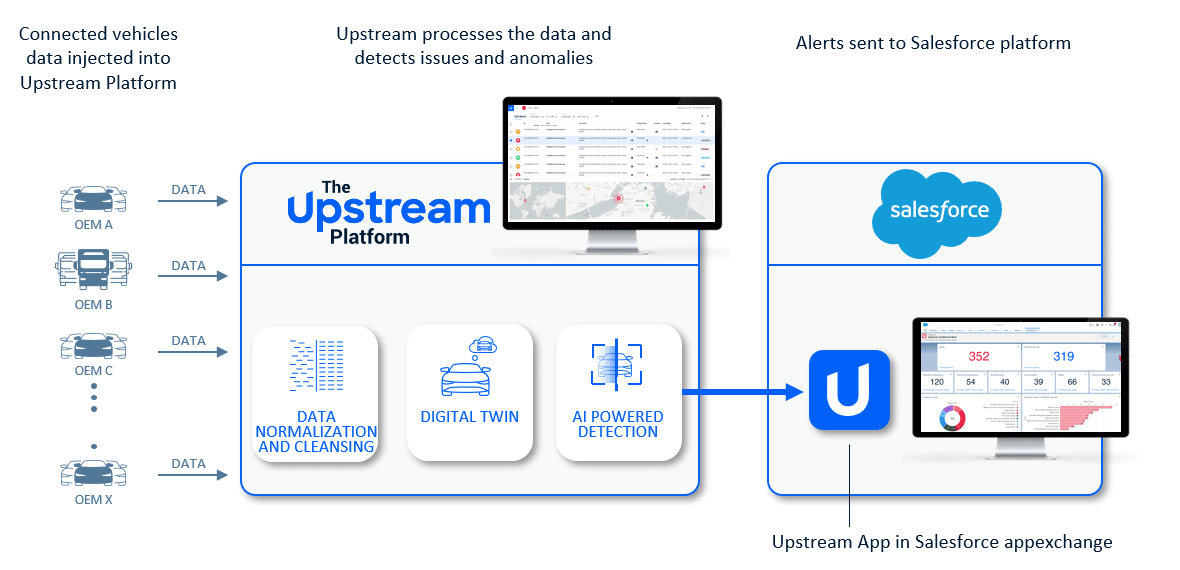 Leveraging Upstream's AI-powered anomaly detection capabilities, the solution also includes the ability for users to build and customize detection behavior by defining their own mobility data detectors, for example, car crash detection. This ability to apply centralized cross-customer and customer-specific detections enables relevant and actionable product and business insights based on user-defined needs.
The Next Generation of Automotive Workflow Automation
The seamless integration with Salesforce AutoCloud offers advanced workflow automation to enhance productivity and optimize the insights discovered by the application. Mobility detectors trigger existing workflows and relevant playbooks for processes related to fleet maintenance, First Notice of Loss (FNOL), workforce management, customer experience and more.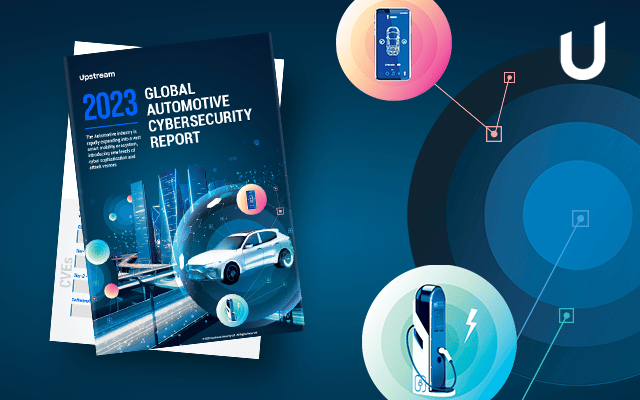 Upstream's 2023 Global Automotive Cybersecurity Report