Last Week in Tel Aviv Was all About Smart Transportation and Securing Connected Mobility
We were there to listen, talk, and hand out branded bananas.
This past week in Tel Aviv has proved once again that the future of the automotive industry lies in connectivity, mobility as a service, and advanced cybersecurity. Between EcoMotion's main event, Jefferies Mobility Technology Conference CyberSecurity panel, Maniv's Mobility Week, and a really interesting talk with the AUTONOCAST's guys (thanks, Ed, Kirsten, and Alex), it was clear to us that the smart mobility sector is exploding with innovation and creativity, with a promise for a much smarter future.

Oded Yarkoni Upstream's Head of Marketing pitching / Upstream's branded Bananas / Upstream's booth
The central part of last week revolved around EcoMotion's 6th event in Israel. Like every year in the past 6 years, with the purpose of supporting the Israeli Smart Transportation sector, EcoMotion brings entrepreneurs, academics, government officials, local and global automotive industry representatives, and investors to share knowledge and collaborate to enhance the implementation of innovation in this industry. The conference focused on 5 main technological categories: Autonomous & Connected Cars; Electrification & Energy; Shared Mobility; Urban Mobility; and Drones & Aviation.
Indeed, the conference, as well as its following events, has brought together the most dynamic community of smart transportation startups from all over the world, with some of the most incredible technologies that are sure to change so many aspects of transportation.
But right there next to that bright and smarter transportation world, lurks every digitalization's biggest nemesis – cyber-attacks. The understanding that connectivity leads to greater exposure was evident this past week, as it is to everyone involved in the connected car industry.
Securing connected cars on the road today, not tomorrow.
As cyber-attacks do not sit around and wait for all of humanity to use connected cars, securing the connected car and its many stakeholders shouldn't wait either, not for another day. That's exactly why with every new technological innovation presented in Tel Aviv this past week, a complementary cybersecurity solution needs to be right there to protect the drivers and vehicles that are already on the road today:
Naturally, as connectivity improves, so the need to find creative ways to protect the new connected car is intensified: As Upstream Security's VP Product, Dan Sahar, said at Jefferies' Mobility Technology Conference's panel –
"We had 3 goals we wanted to achieve:
1. Find a way to secure from a variety of remote attacks.
2. Find a way to secure from attacks that target entire vehicle fleets.
3. Find a way to secure vehicles that are on the road today.
The solution for all of those was to offer security that is not vehicle-based, but rather cloud-based."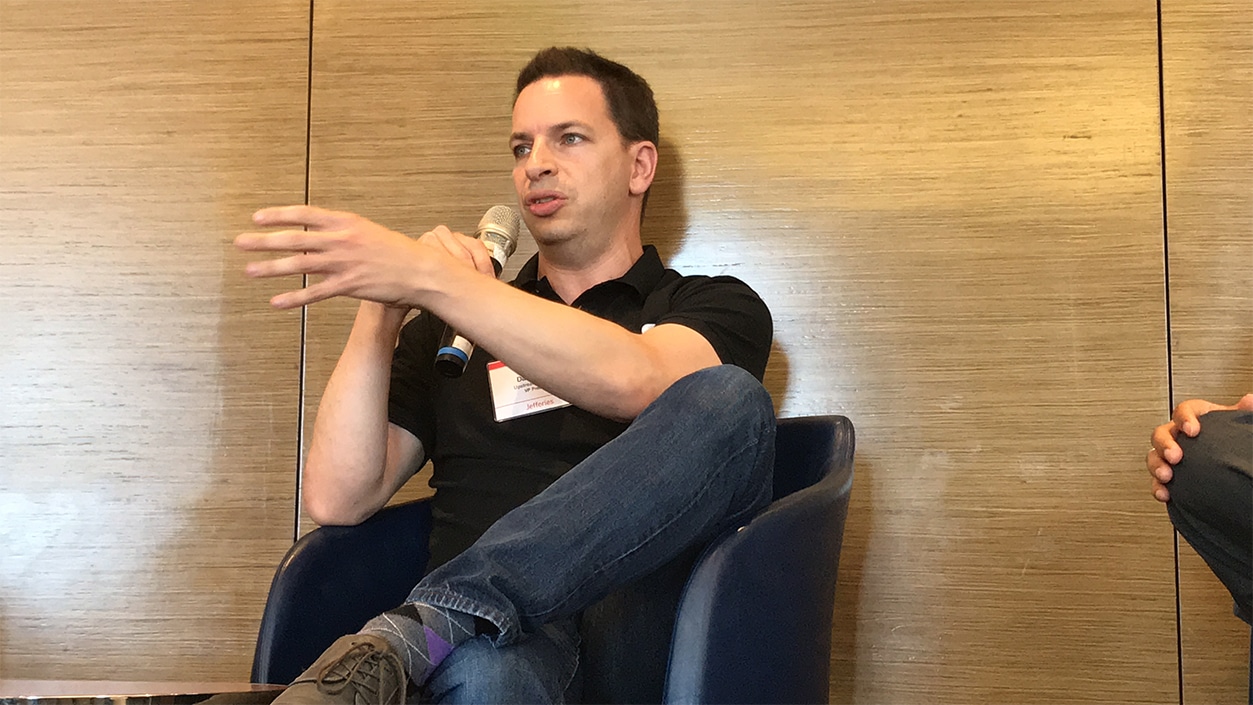 Dan Sahar, Upstream Security VP Products talking on Jefferies event panel.
Attached to the automotive cloud, Upstream Security is the only solution available on the market that provides centralized AI-based security for the entire data-set of an OEM or connected vehicle fleets already on the road today.
So, to conclude this hectic week of innovative transportation–
While nobody knows what the future holds, both presenters and guests in the EcoMotion 6th conference were unanimous about one thing– we're living in an exciting time with a few converging trends: replacing ignition technology, shifting to autonomous driving, creating connectivity between cars and infrastructure, developing sharing-based transportation, and changing existing models of car ownership –
With cybersecurity the biggest enabler of them all.
To learn more about Upstream Security's solution for connected cars, visit us at https://upstream.auto/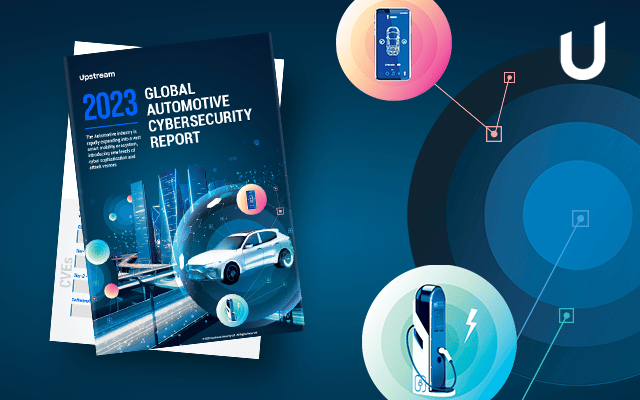 Upstream's 2023 Global Automotive Cybersecurity Report