Download Solution Overview
Upstream C4 Fueling The Vehicle SOC

Data Aggregation

Threat Detection

Incident Response
Security Operations for Connected Cars
Most enterprises today operate a Security Operations Center (SOC) to prevent cybersecurity threats and detect and respond to any incident on the computers, servers and networks it oversees. Car manufacturers have realized that there is an even more pressing need to design and develop a customized SOC designed for detecting and responding to threats targeting their connected car and peripheral services – security and safety go hand in hand. Upstream helps OEMs and Mobility Providers design and implement Vehicle SOC using our award winning C4 Platform designed from the ground up to power Vehicle or Mobility SOCs.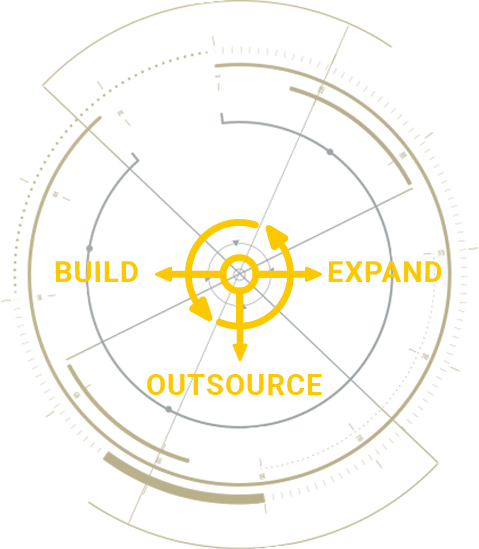 Three Vehicle SOC Approaches
There is a common understanding in the industry – Connected Cars need a Vehicle SOC. There are currently three approaches that OEM car manufacturers are taking to establish a SOC responsible for their vehicles and connectivity infrastructure. Each solution has its own advantages – from complete ownership model of the Expand or Build models that also incorporate the unique automotive expertise of the OEMs – to the cybersecurity expertise in the outsourced MSSP model leveraging their vast experience in establishing and operating a 24×7 virtual SOC for many of their enterprise customers.
The decision as to which approach an OEM or fleet operator should take needs to factor in operational capabilities, budgets and risk profile of the organization. The good thing is Upstream's solution is designed to address all three types and power the Vehicle SOC at its core.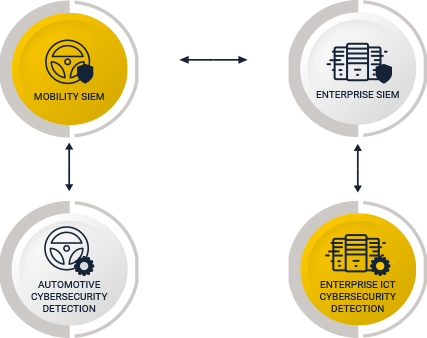 Vehicle SOC Architecture
The Vehicle SOC fuses together disciplines from the IT and OT sides of the enterprise as monitoring of all aspects of the service are needed – insider threats, outside threat actors targeting the vehicles themselves as well as remote attacks targeting the operational service. The common vehicle SOC architecture typically leverages existing enterprise SOC products such as classic SIEM ingesting ICT security solution alerts. This SIEM is then integrated with a combination of a Mobility SIEM solution such as Upstream C4 that also provides for real-time automotive threat detection and provides novel automotive context awareness. The combination of the two solutions enables complete end-to-end security of the connected car infrastructure.
Learn How to Design and Operate an Effective Automotive Cybersecurity Management, Detection, and Response System
Download White Paper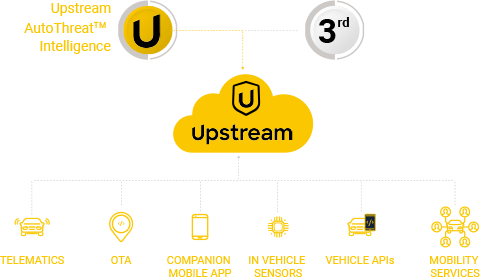 Automotive Threat Detection
As hackers are beginning to target the automotive space, threat intelligence becomes key. Upstream's industry leading research team combines domain expertise with thousands of data points collected from millions of connected vehicles and their connectivity infrastructure to produce up-to-date automotive threats. Threats detection and remediation techniques are then pushed to the Upstream C4 solution detection engines via policy and signature updates keeping our customer's environment safe and secure and one step ahead.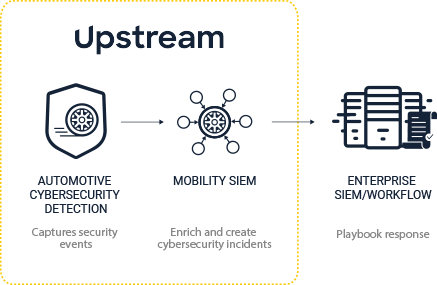 Cybersecurity Incident Response
The Vehicle SOC incident response flow begins with Upstream's cybersecurity detection engine identifying a threat and passing it to the C4 Mobility SIEM for contextual enrichment into a cybersecurity incident containing an in-depth timeline. C4 then passes the incident via API to the integrated enterprise SIEM or Workflow solution where the incident triggers a proper playbook and the triage process begins. The responsible security analysts can then perform the proper steps including investigation in Upstream C4 and SIEM.
Vehicle SOC Incident Response Playbook Design
KEY THINGS TO ADDRESS WHEN DESIGNING PLAYBOOKS FOR A VEHICLE SOC
IDENTIFY which team is responsible for each component (mobile, telematics, in-vehicle etc…) in order to contact in case of breach.
INITIATING CONDITION. What is the first event of the playbook process that triggers the rest of the steps.
PROCESS STEPS. What are all the major activations to be conducted to satisfy the policies and procedures triggered by the initiating condition
RESPONSE. At which point do you want to alert the vehicle product department owner? car owner?
END STATE. What is the end goal of the playbook? What is the desired outcome based on the initiating condition that represents the playbook's completion.
How to Leverage Upstream in a Vehicle SOC
Upstream's C4 Platform is the first and only solution in the market today designed specifically for the unique needs of an Automotive or Vehicle SOC. Our data driven platform combines powerful machine learning based modeling of a connected car environment along with the ability to aggregate and normalize multiple proprietary data feeds. The solution tightly integrates real-time cybersecurity incident detection with a fully featured mobility Security Incident and Event Management (SIEM) that provides security analysts with customized automotive incident timelines. Lastly the platform has pre-built integrations with leading enterprise SIEM and Workflow solutions for true end-to-end SOC workflows.
WATCH THIS VIDEO