The Power of an Analytics Platform Built for Smart Mobility
Big data analytics is table stakes these days in the business world. 79% of enterprises report that without Big Data, they would lose their competitive advantage. For data-heavy industries it stands to reason that the benefits and risks would be even greater. To date, Smart Mobility is only scratching the surface of the value to be found in their existing data.
Data drives the connected car
Often nicknamed 'computers on wheels', connected cars are collecting unique data in an increasing amount of directions. Data is being created from vehicle sensors, telematics servers, application services, mobile apps and more. Personal driver information is also being collected, e.g. through registrations to the car maker's services, third-party services or other Smart Mobility mobile apps. The amount of data is usually more comprehensive if a vehicle is part of a commercial fleet or is connected to back-end systems for monitoring and optimizations purposes.
The challenges of existing analytics solutions
There is no shortage of analytics platforms that claim to process and analyze the data available today. These provide insight on single vehicle or multiple vehicles' (service or fleet-wide) behavior, optimizing operations, detecting issues, helping speed decision making and enhancing opportunities for collaboration and transparency. But as you can see in the chart below, by McKinsey and Company, Smart Mobility (under travel and logistics) is falling behind the curve when it comes to change.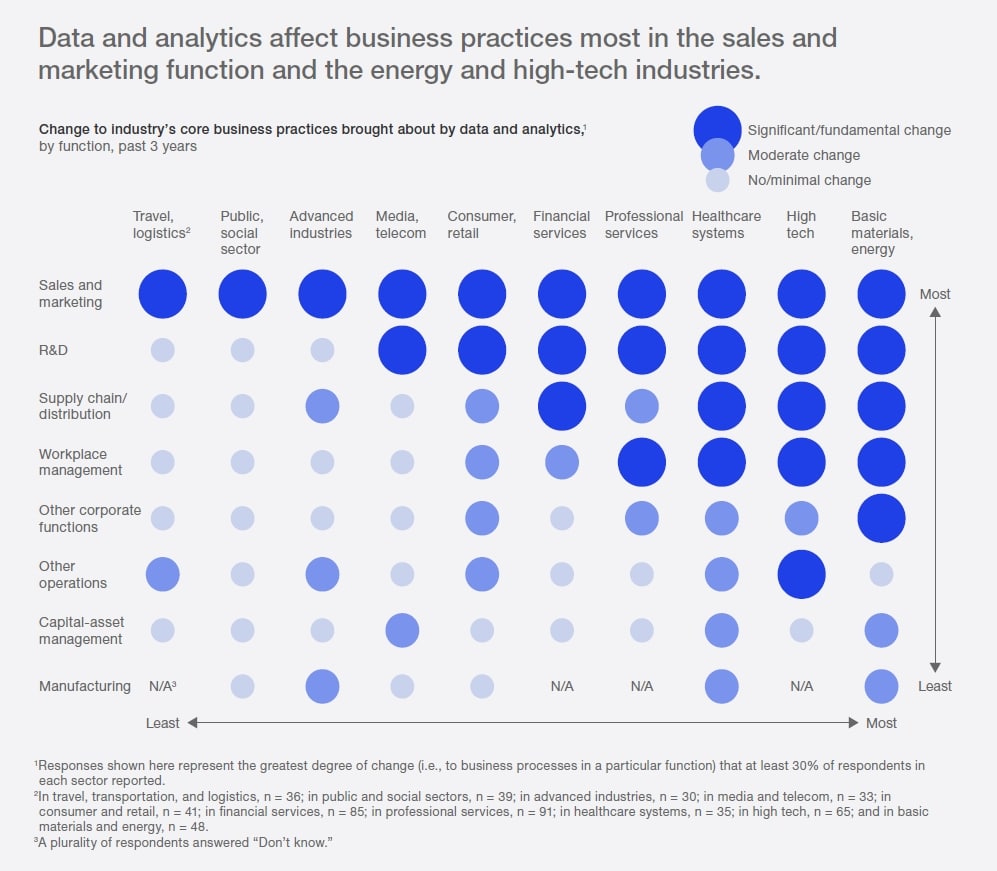 Source: McKinsey and Company
While Sales and Marketing may be seeing limited rewards, when it comes to wider business value – the existing platforms are coming up short. One of the main reasons for this is the generic way these analytics solutions are built. In order for them to work for the automotive space, manual customizations have to be performed. Not only will these be time-consuming and complicated, but they will still result in a square peg being forced into a round hole.
In contrast to generic analytics platforms, a big data solution created with automotive in mind starts out with the industry's unique challenges as its baseline
First, this solution will be able to manage large amounts of data that comes from disparate Smart Mobility sources (e.g. multiple types of vehicle models, services, mobile apps etc.), and therefore comes in varied formats.
Secondly, these analytics will be structured around the one-of-a-kind space that Smart Mobility exists in. Take cybersecurity for example. While IT analytics might focus on cost-reduction or website down-time due to a breach, in the automotive space there is a real and existing risk to human lives. A vulnerability in a misconfigured server run by well-known TSP Calamp left researchers able to access the production databases, and even stop the engine of a car remotely. An analytics solution for automotive therefore needs to be able to understand the gravity of the risk in Smart Mobility, as well as offer benefits to business optimization and decision-making.
Smart Mobility analytics will work for you, addressing four unique directions
Behind the scenes, the right analytics solution will look at the automotive protocols, gleaning information within vehicle-server and server-vehicle communications, all the way to the application layer. By creating an application profile in advance, abnormal messages and values can trigger automated alerts, and this data can be used to streamline operations or understand user behavior in more detail.
The connected car ecosystem uses transactions that are not seen elsewhere. Some might be functional and related to a vehicle, such as remotely unlocking a car door through a mobile app. Others could be technical and behind the scenes, like OTA updates. A strong automotive analytics platform can identify anomalies within these transactions that can signal vehicle hacking or mobility service policy misuse.
Contextual analytics are an integral element of Big Data for the automotive industry. What can seem perfectly normal in one situation, can signal a dangerous risk in another. Stopping the engine, or remotely turning off functions like headlights or airbags could look like legitimate commands at the protocol or transactional level. It is only when considered alongside context, such as the state of the vehicle or its location, that threats can be uncovered.
Lastly, fleets can benefit from behavioral analytics that use AI and machine learning capabilities to take actionable analytics a step further. By learning from the norms of your drivers and vehicles, alerts can be sent when anomalies occur. This could signal hacking, such as an unusual amount of traffic in your communication channels, or mobility service misuse, for example a rental car showing behavioral taxi patterns. This can also be used to identify new opportunities, support research on vehicle trends and performance, as well as create performance benchmarks.
Smart mobility is a unique space deserving a one of a kind analytics solution
Mobility data is too important to outsource to a generic solution that doesn't have your unique needs at its core. Manipulating a broad analytics engine to fit the needs of the automotive world is time consuming, expensive and will never beat a solution built for the connected car.
The right analytics choice for automotive is one that can ingest and normalize data from disparate automotive sources. Sitting centrally, it will use behavioral and contextual analytics, and inspect both protocol and transactional information, down to the application layer. Only with this can you achieve a clear and complete understanding of the entire ecosystem and detect as well as prevent issues at early stages.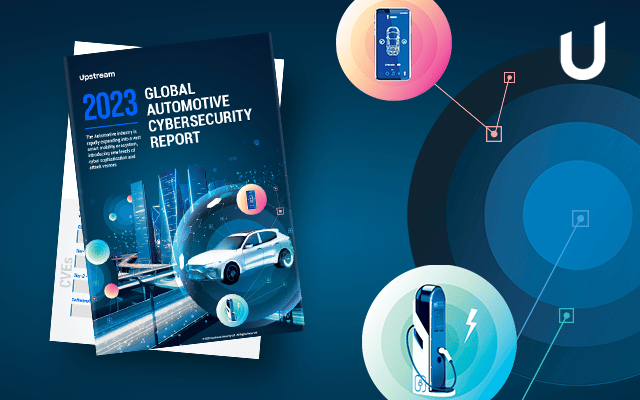 Upstream's 2023 Global Automotive Cybersecurity Report